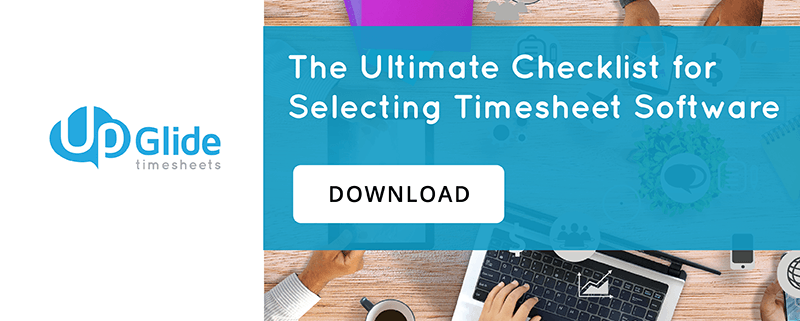 The Ultimate Checklist for Selecting Timesheet Software
Before making a selection for timesheet software, it is important to identify your needs and expectations of functionality. Here are 5 important considerations to take before deciding on a time and expense solution. In addition, you can download The Ultimate Checklist for Selecting Timesheet Software as a tool to guide you.
1. Compatibility
Does the technology fit with your business model? If you have a blended workforce, you'll need a tool that can manage everything time and expense related parallel to permanent employees, SOW employees, and 1099 employees. Maybe your business is staffing, so you'll need technology that can manage an entire portfolio of clients.
2. Integration
Does the technology integrate with your current business systems?  In order to optimize business process management, the tool should have the ability to integrate with current back office technology, such as payroll systems.
3. Accessibility
Where can you access the technology and on what type of devices? Find a system that allows flexible accessibility (i.e. desktop, mobile, tablet) for users to record, track, and manage information. Having self-service functionality allows managers and employees to do what they need without being bound by location or time of day.
4. Scalability
What is the maximum capacity of the technology? It's important to find a tool that works with your business now as well as one that will scale with it towards the future. As your business grows, you will likely undertake more employees, so having a tool with margin for growth can avoid implementation learning curve costs in the long run.
5. Customization
Are you able to set up custom workflows per employee and/or project? If you have many time and expense workflows that you are looking to manage with one tool, you will need technology that allows for unique workflows per circumstance.
---
About UpGlide
UpGlide is the cloud-based total talent management platform that allows you to manage candidates, employees, vendors, and independent contractors in a central location. UpGlide software is customizable to meet the role-specific needs of direct employers, staffing agencies, and MSPs in managing their workforce and vendors. Use UpGlide to support any piece of the workforce lifecycle, streamline program administration, and enable data exchange across external management systems.
UpGlide Timesheets
UpGlide Timesheets is a time and expense solution for direct employers and staffing agencies to effectively manage a multi-layered workforce. The application works with any company seeking a straightforward time and expense management tool that conforms with its business model.. The platform is customizable to meet business-specific needs without the restrictions experienced with other timesheet technology platforms.
https://www.upglide.com/wp-content/uploads/2019/01/UpGlide-Timesheets-Selection-Checklist-800x490.png
490
800
admin
//www.upglide.com/wp-content/uploads/2017/01/upglide-logo-no-tagline-RGB-WEB-340-x-156-01-300x136.png
admin
2019-01-23 12:16:59
2019-09-25 13:33:38
The Ultimate Checklist for Selecting Timesheet Software